We took our sweet time getting our fancy (not) Christmas tree out. We have the most fabulous collection of ornaments. Some are old, some older!!! Nothing new, except for the latest happy meal treats.
It's a little tilted from all the knocking down over the years.....if no one knocks it down this year, we going for a real fancy one with fabulous ornaments next year.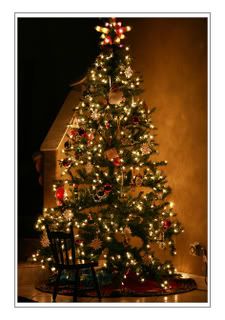 This is our fancy collection of ornaments.
My crafty attempt to make my husbands plane in to an ornament. Here is the E-3 AWACS .
Last but not least, what we did over the weekend. The girls wished they could "move in"
Some of those gummies already "moved in"....they are all gone!!
I want to wish all of you a Wonderful Holiday Season and a Happy New Year!!!
A special THANK YOU to everyone who took the time to send me an email regarding my husband. I really means a lot to everyone in our Family, specially him. He sends his best wishes to everyone. Thank you!!!!
My Funky Camera will re-open with new products, giveaways and lots of surprises.
Until next year!!!!
G~